My vet was more optimistic about Elle today. The horrible purplish black skin is starting to look less black and even a little pink in some places. She's in a lot of pain. When I got there this morning, she would look at me then turn her head to look at her leg then look back at me. She did this repeatedly as if to say, "Momma, it hurts! Make it stop!" And I couldn't make it stop.
I'm convinced that this is a snake bite. I've researched the effects of rat poisoning and they are the same as a bite from a pit viper–they both effect the ability to clot and cause bleeding therefore vitamin K is part of the treatment. Elle didn't have any of the other symptoms from rat poisoning. My vet remains unconvinced and, since the vitamin K is working, she thinks that validates her diagnosis. When I told her that vitamin K is also part of pit viper bite treatment, she rolled her eyes and said that anti venom is treatment for pit viper. Anti-venom is only useful in the first several hours after the bite. After that, it does no good. Everyone else that I have consulted says it's a snake bite and the symptoms are consistent with a snake bite. Besides, I don't use rat poison.
I don't care who is right here. I only care that Elle gets well. I do wish that professionals would realize that they can't possibly know everything there is to know medically and would, at least, consider the patent's ability to educate themselves.
This is a picture of my grown son and Elle. Notice how tiny she is. (Also notice the attitude.)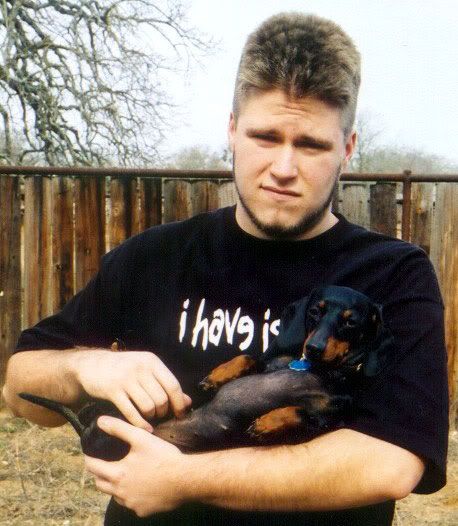 Now look at the picture I took today. From her front leg back is all swelling. She is not overweight. That's all swelling. She is not bowed up trying to make a poo but from pain.
I miss her. Sometimes I get impatient with her demands but when she is gone I miss her. I even miss her waking me up at night. Her bed is next to mine. She likes to be covered up when she sleeps and if the covers come off she whines until it wakes me up and I cover her up.
I don't know when she will get to come home.
My son asked me yesterday how I would pay the vet bill because it will be very high. He remembers her bill from the spinal surgery and how long it took to pay that off. I'll have to charge it and, thankfully, I don't have much debt.He suggested that I have a credit card swipe installed in Ellie so that when she gets sick or hurt I can just swipe until she is well.
Sharon Wilson is considered a leading citizen expert on the impacts of shale oil and gas extraction. She is the go-to person whether it's top EPA officials from D.C., national and international news networks, or residents facing the shock of eminent domain and the devastating environmental effects of natural gas development in their backyards.