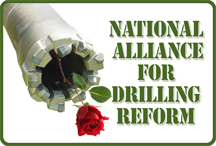 Gathering Line – a special pipeline that transports gas from the field to the main pipeline.
The Gathering Line is a round-up of oil & gas drilling news brought to you by National Alliance for Drilling Reform (NA4DR), a broad alliance of grassroots activists from states across the nation that are affected with drilling development.
Splashdown wants to encourage everyone to get behind the 2 Action Alerts to clean up the Chesapeake Bay and all inflowing waterways. 1. You can send an easy click message to Congress to urge them to join in sponsoring this critical Clean Water legislation. 2. Beginning Nov. 9th, public input (also easy click to comment) is being sought on strategic plans for President Obama's Executive Order for cleaning up the Bay. So please, hop to it!
TXsharon continues to report from a backyard in the Barnett Shale. Despite all the local and national press on drilling related toxins, carcinogens and neurotoxins in our air, Aruba Petroleum Refuses a Simple Step to Improve Barnett Shale Air and thereby recklessly and willfully endangers public health and safety. Read it on Bluedaze: DRILLING REFORM FOR TEXAS.
The New Energy Army Pickens Proposes to force his plan upon the nation Read it at Cheap Tricks and Costly Truths.
Peacegirl writes about the situation in Clearville, PA, where compressor stations are causing serious environmental problems. Read Compressor Stations Wreak Havoc in PA. Watch two videos, and see for yourself what it looks like to have tiny oily spots on every surface, every plant, farm equipment, a pond- everywhere. It is unbelievable! See the cemetery adjacent to a Clearville compressor station where local residents hope someday to "rest in peace." They are wondering if that day will come sooner rather than later because of the serious health threats they now fear from the gas industry. Who will help the residents of Clearville? Is the PA DEP doing its job? Visit Gas Wells Are Not Our Friends. Reader comments are always welcome.
Sue Heavenrich reports on a recently released report about drilling accidents in NY 270 Drilling Accidents in NY So Far Read about that and and more at The Marcellus Effect.
Flower Mound Citizens Against Urban Drilling urges everyone to read the Environment Texas study to learn how excessive waste of fresh water and toxic chemicals gas drillers use in the extraction of the gas are threatening our drinking water in the Barnett Shale area.
Sharon Wilson is considered a leading citizen expert on the impacts of shale oil and gas extraction. She is the go-to person whether it's top EPA officials from D.C., national and international news networks, or residents facing the shock of eminent domain and the devastating environmental effects of natural gas development in their backyards.