I enjoy a good cocktail from time to time, but this kind of Fire Water gives me gas!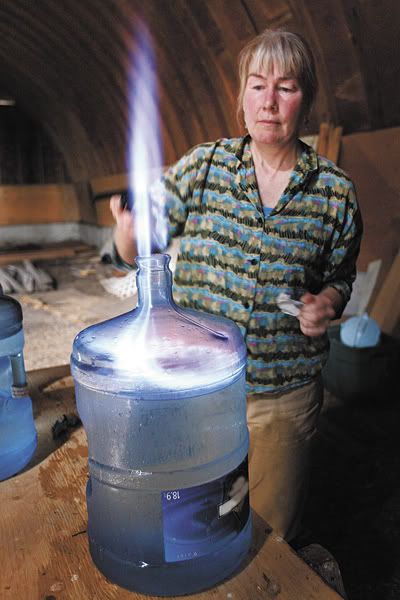 This is part of a very long article, "Citizen EnCana," that appeared in Fast Forward, Calgary's News and Entertainment Weekly.
Fast Forward spoke with 20 farmers and ranchers while preparing this story, and the same concerns came up frequently: some were afraid the company was contaminating their water; some accused the company of allowing weeds to grow on their leases, endangering their crops; almost everyone said the company wasn't taking their concerns seriously. All these complaints pale next to the health problems experienced by a few of the landowners who've crossed paths with EnCana.
Darrell Graff, a 30 year old farmer had a seizure because of chemicals released during the frequent flaring of Encana gas wells.
Read the rest on Texas Kaos
Sharon Wilson is considered a leading citizen expert on the impacts of shale oil and gas extraction. She is the go-to person whether it's top EPA officials from D.C., national and international news networks, or residents facing the shock of eminent domain and the devastating environmental effects of natural gas development in their backyards.