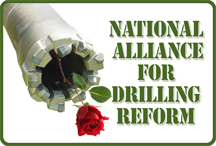 Gathering Line – a special pipeline that transports gas from the field to the main pipeline.
The Gathering Line is a round-up of oil & gas drilling news brought to you by National Alliance for Drilling Reform (NA4DR), a broad alliance of grassroots activists from states across the nation that are affected with drilling development.
Express Energy Uses Mafia Like Tactics On A Fellow BloggerNEW Information On Express Energy! Express Energy Being Sued For MULTIPLE Employment ViolationsRead it at Cheap
Tricks and Costly Truths.
Take a photo-tour of some of the wells in our backyard in Upstate NY at Marcellus Effect
The Texas Department of State Health Services is looking into a possible cancer cluster in Flower Mound. 5 children and 2 adults have been diagnosed with Leukemia. All live near gas drilling activity. Read about it at www.stopthedrilling.blogspot.com
How does Texas compare with other states? A statistical analysis with graphs reveals the truth at Bluedaze: DRILLING REFORM FOR TEXAS.
How do yoga, the Bible, and hydrofracking relate to each other? Peacegirl sees a connection. If it were an answer by Karnak the Magnificent (you would have to be a certain age to know about Karnak!), it would be amusing, but it's not. Yoga, the Bible, and Hydrofracking brings up the issue of doing harm. Is hydrofracking harmless? No. Another question: Who will listen? There are many people who are telling their stories about how gas drilling has adversely affected their lives. Is anyone listening? From Peacegirl at Gas Wells Are Not Our Friends.
From atop the Marcellus Shale, Splashdown reports that a recent PA Supreme Court ruling states local municipalities can regulate where gas wells are located through zoning ordinances, pre-empting PA's Oil and Gas Act. Read how Greenfield Twp. stopped Exco Resources from drilling a misplaced well, despite their DEP permit.
Sharon Wilson is considered a leading citizen expert on the impacts of shale oil and gas extraction. She is the go-to person whether it's top EPA officials from D.C., national and international news networks, or residents facing the shock of eminent domain and the devastating environmental effects of natural gas development in their backyards.