The National Alliance for Drilling Reform wishes you a Happy Holiday, Merry Christmas and plenty of clean air and safe water for all!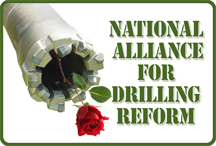 Gathering Line – a special pipeline that transports gas from the field to the main pipeline.
The Gathering Line is a round-up of oil & gas drilling news brought to you by National Alliance for Drilling Reform (NA4DR), a broad alliance of grassroots activists from states across the nation that are affected with drilling development.
Whodunnit? The New Mexico Environment Department reached a $5.1 million settlement over "alleged" air emission violations. Find out at Northern New Mexico Conservation Project.
BARNETT SHALE GAS THREATENS HUMAN HEALTH !!! TXsharon posted the Final Results of the DISH TX health survey at Bluedaze.
Citizens for Environmental Clean-Up sets the record straight: The Exxon back out clause is purely industry spin aided by lazy journalism because there is nothing in the FRAC Act or anywhere else about banning hydraulic fracturing.
Flower Mound Town Council denies temporary suspension of Natural Gas Production until TCEQ and EPA releases their study results and recommendations. It appears Council members Dixon, Levenick, and Wallace aren't buying the recent concerns and results of the studies already conducted by the TCEQ, the Federal EPA, and Town of Dish! Read about it at stopthedrilling.blogspot.com.
Sierra Club executive director Carl Pope has been spotted traveling around the country promoting natural gas's environmental benefits with none other than Aubrey McClendon, chief executive of Chesapeake Energy Corporation. Read more at Marcellus Effect
Peacegirl read a powerful blog post this week from Don Young of Texas who viewed the recent film "Flame and Citron," a true story about a pair of heroic resistance fighters in Nazi-occupied Denmark. The film tag-line is haunting in light of what is happening when gas drillers come to your town: "Do you remember when they came?" Check out Peacegirl's post, Do you remember when they came? and visit her blog at www.dearsusquehanna.blogspot.com Gas drillers are occupiers, and they are in charge. Do you see the parallels?
Sharon Wilson is considered a leading citizen expert on the impacts of shale oil and gas extraction. She is the go-to person whether it's top EPA officials from D.C., national and international news networks, or residents facing the shock of eminent domain and the devastating environmental effects of natural gas development in their backyards.