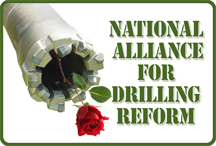 Gathering Line – a special pipeline that transports gas from the field to the main pipeline.
The Gathering Line is a round-up of oil & gas drilling news brought to you by National Alliance for Drilling Reform (NA4DR), a broad alliance of grassroots activists from states across the nation that are affected with drilling development.
Amy Goodman interviews of Toxics Targeting, an Ithaca, NY-based environmental database firm which released a report last week, uncovering 270 documented hazardous chemical spills which occurred over the past thirty years. PA's own Department of Environmental Conservation's database contained records of fires, explosions, wastewater spills, well contamination, and ecological damage related to gas drilling. Take a moment to watch the interview Amy Goodman Interviews Walter Hang of Toxics Targeting Mr. Hang is calling on NY Governor David Paterson to withdraw the Draft Supplemental Geologic Environmental Impact Statement, citing woefully inadequate reporting which will not come close to protecting the environment, water, and public health. This is a must-see interview! Visit Gas Wells Are Not Our Friends to find out more from Peacegirl!
Would you consider this a small footprint?See the effects of 40 years of drilling!Read it at Cheap Tricks and Costly Truths.
Gas drilling is destroying Pennsylvania's wilderness. The Pennsylvania Wilds include more than 2,000,000 acres of publicly owned virgin forest, clear mountain streams and abundant wildlife. Read about how these public lands are being violated and watch Splashdown for public action you can take soon to defend the Allegheny National Forest, part of the Pennsylvania Wilds.
TXsharon continues to follow the abuses of Aruba Petroleum in a Barnett Shale backyard and Wednesday the Wise County Messenger picked up the story–don't miss the comments. It's all on Bluedaze: DRILLING REFORM FOR TEXAS.
Colleyville tables application for first well site. See story at Flower Mound Citizens Against Urban Drilling
Sue Heavenrich writes about problems with a local compressor station in upstate New York at the "Marcellus Effect." Industrial drilling in Marcellus is impact enough, but without local zoning rural areas are open to invasion by other industrial uses too, including compressor stations. You'll find more on the "Marcellus Effect"
Sharon Wilson is considered a leading citizen expert on the impacts of shale oil and gas extraction. She is the go-to person whether it's top EPA officials from D.C., national and international news networks, or residents facing the shock of eminent domain and the devastating environmental effects of natural gas development in their backyards.