This is the same sludge pond I posted about HERE
This is also posted on Texas Kaos where you can see a much larger version of the pictures.
It still has a strong stench of sewage from where the drilling company dumped their sewage. It also has a strong chemical and hydrocarbon smell.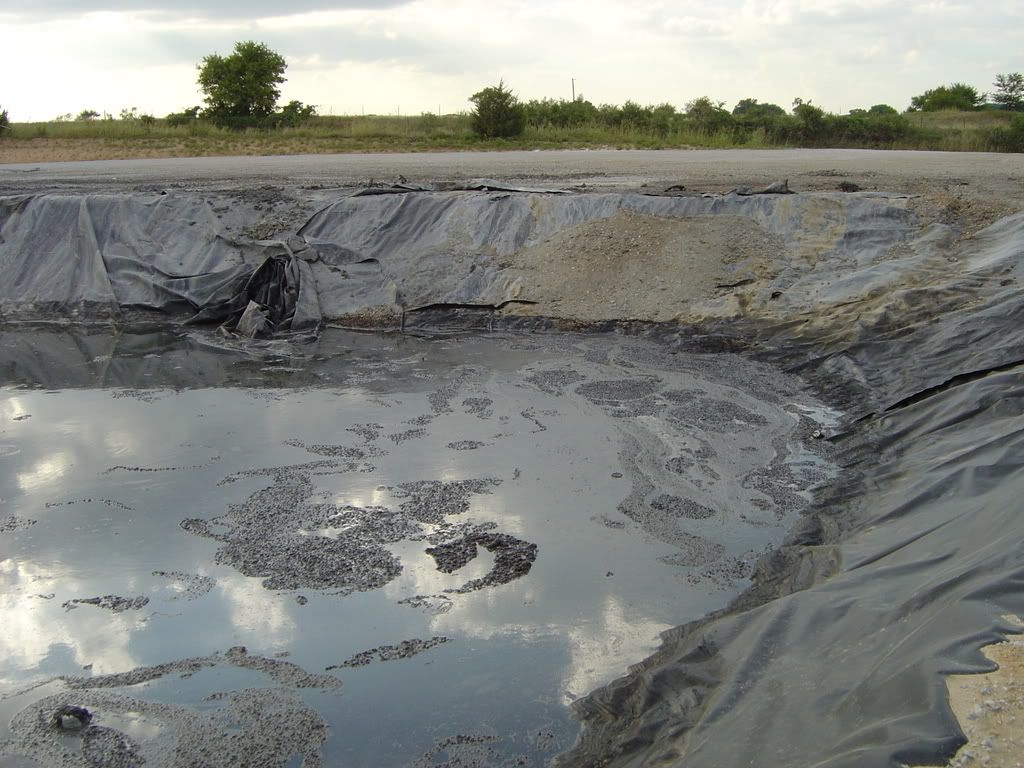 I called TCEQ and the EPA which was a major time suck. They couldn't do anything about this; and they weren't overly interested. I guess I'll call the Texas Railroad Commission next which will be another major time suck.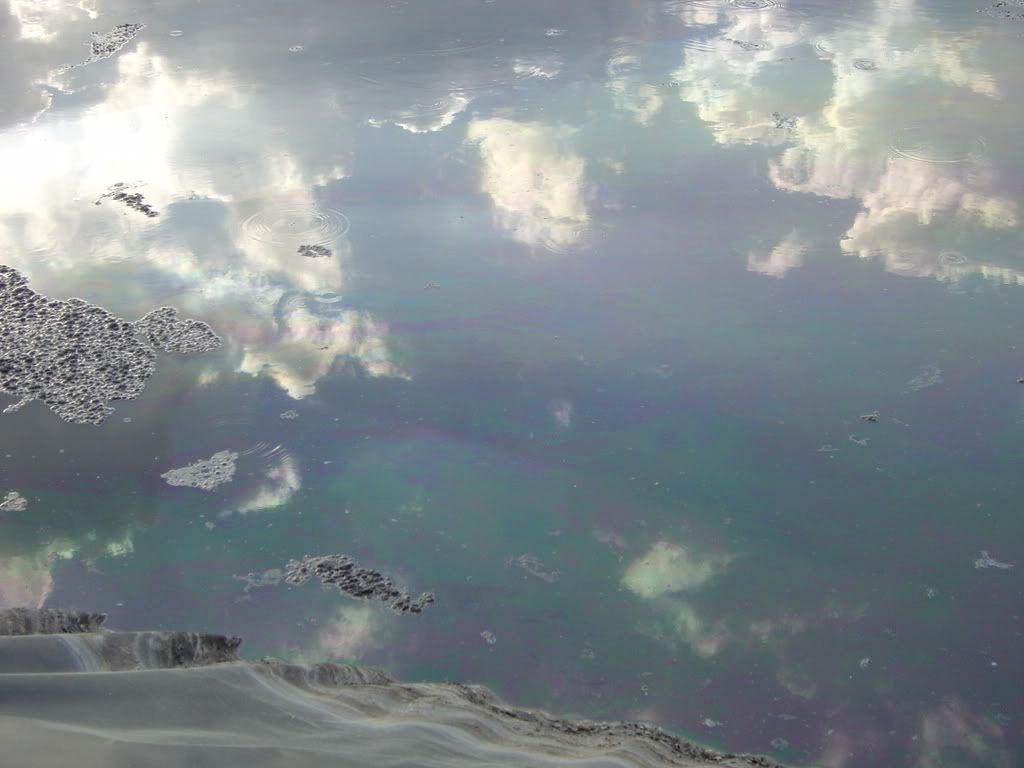 Just this week, I was called a "Knucklehead" and a "Radical" by Will Brackett, Managing Editor of the Powell Barnett Shale Newsletter Shill. I think it's clear that the radicals are the corporations that practice this kind of environmental abuse. From the comments on that post, they might have come out better striking a match at one of their well sites.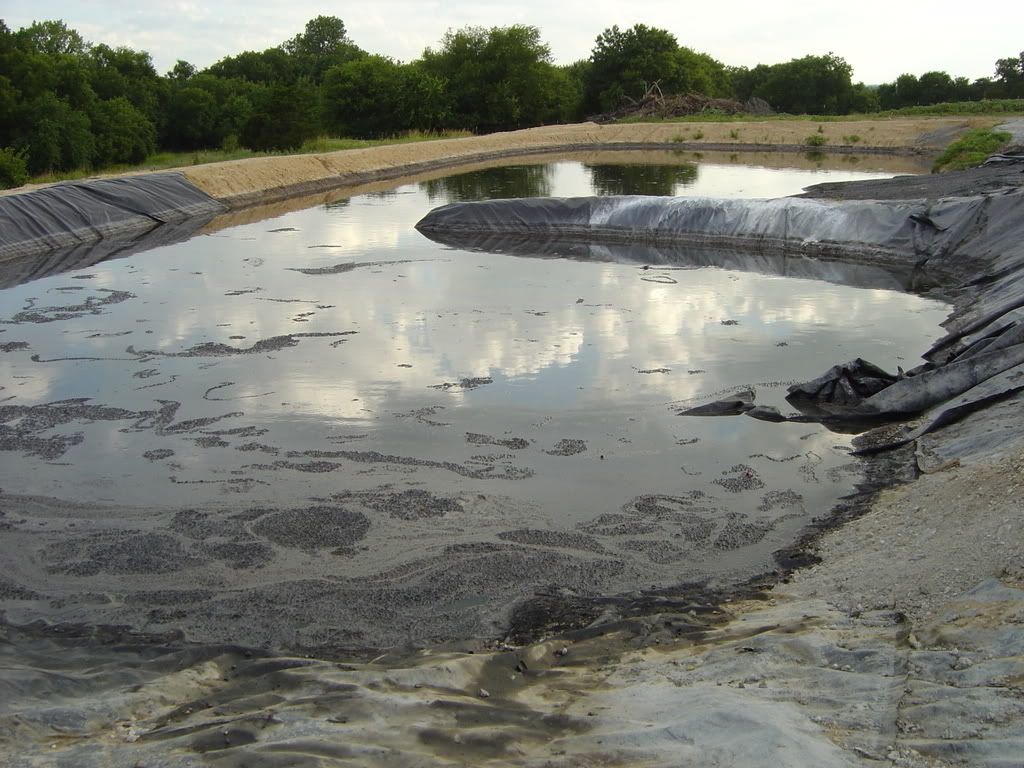 I'm not a wastewater technician, but I would bet my pet nanny goat that the solids floating in that pond are, at least partially, human feces.
Nice lining job, eh?
Sludge pits/ponds are used to hold exploration and production (E&P) waste.
other cancer-causing, toxic substances
The Resource Conservation and Recovery Act (RCRA)
exempts E&P waste
from federal hazardous waste regulations.
These sludge ponds are everywhere. Everyday I see cows drinking from them—dairy cows and beef cattle. I've seen them overflow during heavy rains.
Pits endanger birds, wildlife and livestock.
"There have been many instances of bird, wildlife and livestock mortality resulting from drinking or simply coming in contact with the toxic fluids in pits."
Pollution from pits occurs in a variety of ways:
Evaporation releases chemicals (benzene) and volatile hydrocarbons into the air.
Unlined pits leach chemicals into soil causing soil and groundwater contamination.
Lined pits leach chemicals through tears in liner and through improperly installed liners.
During rain, pits overflow and contaminate soil and surface water.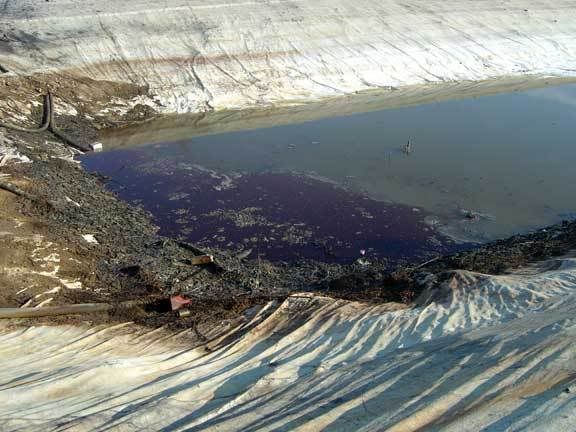 Regulation of pits and pit cleanup is extremely lax. Most of the pits I see every day have remained for many years
Oil and gas enjoys broad exemptions from our environmental laws.
Comprehensive Environmental Response, Compensation, and Liability Act
Resource Conservation and Recovery Act
National Environmental Policy Act
Toxic Release Inventory under the Emergency Planning and Community Right-to-Know Act
Closing the exemptions and loopholes along with pushing for clean, renewable energy sources will help keep us safe and protect our environment for future generations.
UPDATE: The well operator is Braden Exploration LLC 086335
API #49736518
Lease Name is Moore
I also posted HERE
Sharon Wilson is considered a leading citizen expert on the impacts of shale oil and gas extraction. She is the go-to person whether it's top EPA officials from D.C., national and international news networks, or residents facing the shock of eminent domain and the devastating environmental effects of natural gas development in their backyards.